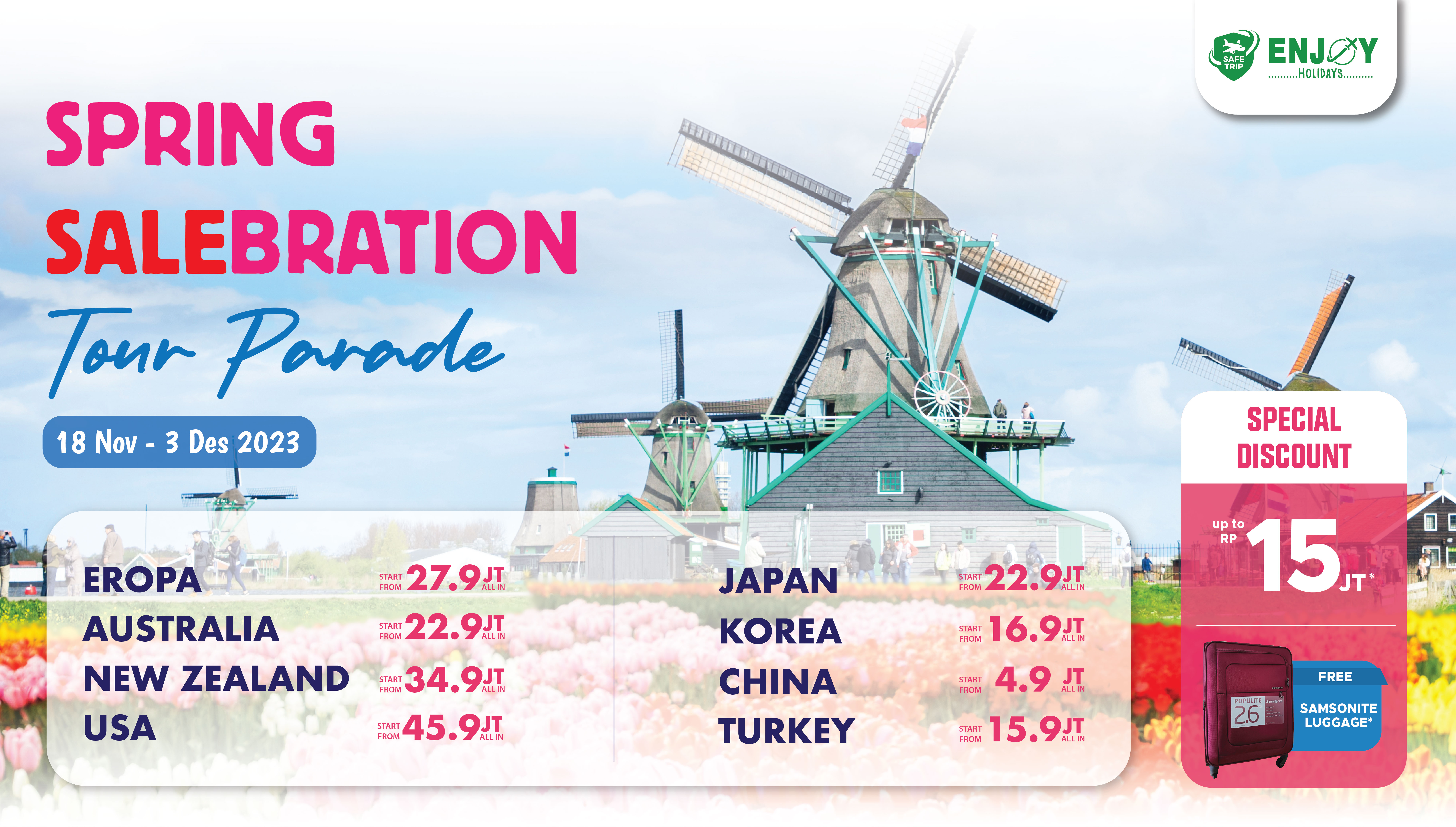 Dwidayatour Liburan Asik Diskon s.d Rp2,5 juta* dengan Bank Mandiri + Cicilan hingga 12 Bulan
Periode : 5 Des 2023 s.d 31 Des 2023
Tur
Periode (2024)
Harga/ orang
Tur Thailand
5D4N VD Best of Bangkok + Four Face Buddha
Dec – Jun
Rp6,424,000
Tur Korea
5D3N VD Best of Seoul with Hanbok Experience + COEX Starfield Library
Jun – Dec
Rp12,049,000
Tur China
8D6N Exotic China Beijing Shanghai + Wuxi + Bonus : West Lake Cruise
Jan – Nov
Rp12,549,900
Tur Dubai
6D5N VD Amazing Dubai Desert Safari PLUZZ Explore Brunei
May – Jul
Rp14,049,900
Tur Jepang
6D3N VD Best of Tokyo + Mt. Fuji
Jun – Sep
Rp15,549,000
Tur Australia
7D5N VD ENJOY AUSSIE 3 CITY WITH CURRUMBIN WILDLIFE
Mar – Jun
Rp22,049,000
Tur Eropa
9D6N VD Amazing Britain + Scotland
Apr – Dec
Rp25,549,000
Tur New Zealand
6D4N New Zealand North Island Hobbiton PLUZZ Gondola Ride & Buffet Dinner
Feb – Jun
Rp33,549,000

Tur USA

10D7N EXPLORE USA WEST COAST NATIONAL PARKS + CABAZON PREMIUM OUTLET

Mar – Jun
Rp38,549,000
Jangan lewatkan kesempatan untuk mendapatkan slot pendaftaran eksklusif di Dwidaya. Isi form di bawah dan siapkan diri Anda untuk petualangan tak terlupakan! 👇🏻
SAYA MAU PESAN PAKET TUR!
Info selanjutnya silahkan hubungi cabang terdekat:
Terima pembayaran
VISA
Mastercard
Transfer
Payment Link
"Affordable with Excellent Service"

With a very efficient and effective service, they help me to choose wherever I go on a vacation with the family
"Easy to reach, They're EVERYWHERE!"

I'm astonished with the number of branches they had in Indonesia. And frankly, whenever I go the service is always great!
"Very Responsive"

As a world traveler, they're always ready with any itinerary changes I ask. Makes my job a lot easier!